CELTRA DUO sets new standards as a product of the new zirconium dioxide reinforced lithium silicate ceramic generation (ZLS).
Resilient, reliable and versatile
CELTRA DUO has a fine-grained and homogeneous microstructure, which ensures excellent material quality and thus consistently high load-bearing capacity and special reliability. With a wide range of indications from crowns in the anterior and posterior region and superstructures on implants to veneers, inlays and onlays, the new CAD/CAM ceramic is versatile.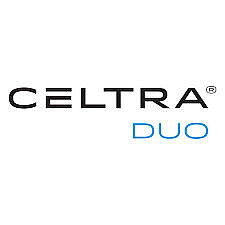 Aesthetic
CELTRA is aesthetically very appealing due to its integrated translucency, fluorescence and opalescence and shows a natural play of colours. Highly aesthetic results can be achieved with the VITA AKZENT Plus stains for shade characterization and the specially developed low-fusing, fine-structure feldspar ceramic VITA VM 11 for individualization.
Process reliability
The material also has excellent processing properties, such as easy manual grinding and polishing. In addition, the new glass ceramic proves to be very reliable in application.
Optimized precision
CELTRA shows very good edge stability after the grinding process CELTA shows very good edge stability. This ensures precisely fitting end results and is also due to the fine-grained structure of the new glass ceramic. Range of colours
CELTRA is available in the colours 0M1, A1, A2, A3, A3.5, B2, C2 and D2. All block colours are also available in two translucency levels (T= Translucent, HT= High Translucent).